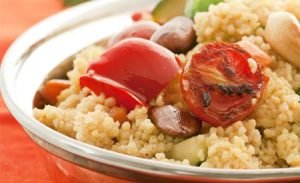 Gluten free Millet for vegan and vegetarian
Vegetarian and vegan love millet because it is rich in fiber and helps with
complex carbohydrate to meet the daily protein instead of animal sources.
It fills the stomach and makes satisfied.Cutting back on meet is good for
natural weight loss.
In India it is used to make roti, which is a traditional bread and there are a lot of nice other recipes with gluten free millet.
In Ethiopia porridge is made and in the Caribbean people cook it with beans and peas. If cooked with peas and beans, it is good for making vegetarian burgers.
Millet, a whole grain is rich in fiber and phytonutrients like lignan, which researcher believe prevents hormone related cancer, colon cancer and the risk of heart disease. It contains also a B vitamin which is called niacin, which keeps cholesterol levels in balance and magnesium which relaxes the muscles inside the arteries so it keeps the blood pressure stable.
Magnesium is also good for asthmatics and people with migraine headache.
Try Millet if you are allergic to wheat. This perfect vegetarian diet is a good source of protein and contains niacin, copper and manganese.
Nutritional Values of Millet:
Serving Size: 1/2 cup
Calories: 104
Protein: 3 g
Carbohydrate: 21 g
Fat: Saturated Fat: 0 g
Cholesterol: 0 mg
Dietary Fiber: 1 g
Sodium: 2 mg
Niacin: 1.6 mg
Copper: 0.1 mg
Magnesium: 38 mg
Manganese: 0.3 mg
Here are few recipes from a couple of millet expert friends of mine

 Radha Natarajan 
millet-flour-dahi-vadas-faraali +–kodo-millet-vegetable-idlis
and Priya Shiva
steamed-kodo-millet-dumplings +  kuthiraivali-barnyard-millet-ponga
 Read also > Millet -Prevent Diabetes