Don't make quitting an option and never give up
Let's think today about why it is better you don't make quitting an Option.
In the last post, Ikechi Awazie did write: What you shouldn't do when you feel like Quitting.
Many people, especially young people are looking to find their passion, but often if they found it and it does not work out what they do right away, they start to jump from one opportunity to another and quit what they are passionate about.
Often there is no support or the circumstances seem not right. But if one found his passion and something he does love to do, it does not make the situation better, because he has to start over again with something he may not even love to do.
In this case, it is better to look beyond the circumstances and find support instead of an excuse.
Because: "An excuse is the most expensive brand of self-defeat you will ever purchase."
― Johnnie Dent Jr.
If you found your passion and love what you do, don't make quitting an option.
"Understanding that quitting is never an option leaves winning as the only option."
― Edmond Mbiaka
Recently, I was talking to Rajat Poonia, a young man, who started a blog to write about his experiences.
I did read what he is writing about and liked it, but he thought about quitting. I hope that he will continue.
Let's support him with good intentions, he may be able to help others with his writing.
Keep in good frequency and tune in with the support of the universe. Read here about the Law of vibration
Stick to what you love and success will follow. Read the Story of Satyananda here, he is on the way to his dream.
"Some people quit when victory is around the corner"
― Bangambiki Habyarimana,
But here I have today a young man who said, don't make quitting an option and he is a bit stubborn about it, which may be good in his case.
Meet Robin Khokhar he made blogging his dream job.
He is living in a world-famous Pilgrim city in India, Amritsar.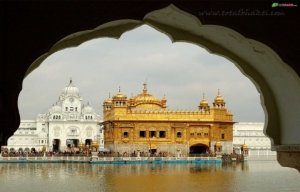 But read what Robin Khokhar is telling us below.
Tell about yourself and your dream. Is blogging your dream job?
I have big dreams but sincerely blogging was not my dream job. But when I came to know that
I can make money online and I can work from home then I decided
to be my own boss and started my own Blog named Tricky Enough.
I have working experience of one year as an SEO assistant and two years as an SEO manager
but I quit my job as an  SEO expert to become a full-time blogger and be my own boss.
Blogging was not always my dream job but as soon as I realized that I could make money
by blogging, working from home, and having no boss is going to be upon me, I decided to make blogging my dream job.
Do you have an ideal you follow?
Well, there are many pro bloggers out there and many of them are very good but I don't want an
ideal for me. I want to be myself only. I just want to have a different image of my own as a blogger.
Although, there are some bloggers  like Harsh  Agarwal, Neil Patel, and Brian Dean whose techniques
I follow and practice but I always try to make my own techniques that work for me so that I can
share my experience of blogging and SEO with my blog's audience.
Our blogger friend Ikechi did write a post about quitting here before.
Did you ever feel like quitting? What does help and support you?
I am a stubborn type of person, not always but I never give up easily. Also, I never feel like quitting because
I have one thing in mind what others can do so can I? And this feeling never let me quit easily.
Quitting is not an option.
My parents are big support for me.  They always help and stand with me in all my decisions.
When I did quit my job and started my blogging carrier for the first two months I didn't earn a
single dollar but my parents were there for me as always and supported me financially as well
as in every other way.
I believe that good intention of people helps, do you believe this?
Obviously, the good intention of people is always helpful. Although, I believe in always helping others first.
You live in a famous pilgrimage city do you feel sometimes special energy?
I think places like this have a special energy.
Amritsar is known as the Holy City. And living in this city is an awesome experience.
Sometimes I feel proud that I am living in this famous pilgrimage city because whenever my friends or relatives
visit me, they want to see the city and visit the wonderful places here like the Golden temple, Jallianwala Bagh,
and Waga border. And In return, I become their guide and give them company to visit these places.
What are you ambitious about and want to give to your audience with your blog posts?
I always try to write about my own experiences instead of copying from others. Taking a little help
from other posts is a good idea but in the end, my own experience is what counts the most.
Writing a post about what I have already learned and gone through myself will be a great help for my
audience and I focus on helping with the knowledge and experience I have.
Visit the blog of Robin Khokhar to learn about his experience with blogging
Let us support Robin Khokhar and Rajat Poonia with good intentions.
What is your experience with quitting?
Have you ever made the decision to make quitting not an option?
Please share your experience with us.