Is there a right strategy selling your stuff?
Is it the right strategy to convince bloggers to buy from you? Are you desperate to sell your stuff? Think about how it feels to you if someone wants to desperately pursue you to buy something? Do you feel if someone is genuine?
Here is a guest post from Ryan Biddulph and he tells us here why this is not the right way. In my opinion, he is right.
Should you convince bloggers to buy from you?
No.
Never.
A few moments ago, I pondered lowering the price of my blogging course for someone who asked if I offered payment plans. I considered creating a coupon for the individual. After a few seconds, I declined. Why? Even though it feels good to get the course in her hands, to help her, and even though it feels good to make money, I likely added a bit of convincing energy to the move if I went that route.
Avoid trying to convince bloggers and readers to buy your stuff in most cases because ready, willing, prospering readers await to buy your stuff fast, if you give these folks most of your attention and energy.
My Time and Energy
I would have spent about 5-10 minutes logging in to Selz, creating a coupon for my blogging course, and emailing said blogger the coupon. But rethinking my slightly convincing approach, I figured spending 10 of those minutes writing this post for Erika and her readers and adding 10 more minutes to complete the post makes better energetic sense.
Why attempt to convince a loving and loyal blogger who seems to be budgeting now, versus creating helpful content for a loving and loyal who is *all in*? Erika promotes me tirelessly on Twitter and Facebook. She is *all in*, enjoying my work. She even invites me to guest post on her sensational blog. I never had to convince her of anything. I just create content, she Likes it or Retweets it and shares it.
Why?
Resonance.
Take the path of least resistance – even if it feels uncomfortable and scary – to make the most money.
"MONEY COMES FROM PROSPERITY. PROSPERITY IS A FEELING OF HAVING IT ALL, OF BEING IN THE FLOW. THIS FEELING ATTRACTS CORRESPONDING SITUATIONS AND OPPORTUNITIES. AND THIS IS EVENTUALLY EXPERIENCED PHYSICALLY AS MONEY AND WEALTH. PROSPERITY IS AN INSIDE JOB. SUCCESS IS THE PERSON YOU BECOME, NOT A POINT YOU CHASE AFTER."
– DAVID CAMERON GIKAND
Resonance and Money
Go to where you are loved. Make more money.
Only love and abundance are real. Fear and poverty are illusions.
Most bloggers fear losing money or not making money. Poverty consciousness at play here. If you fear losing money you do the silly thing of trying to convince or manipulate non-resonant folks to buy. But since where energy goes, grows, most folks do not buy, you struggle financially and eventually, quit blogging. Why? You vibed fear and blogged fear and did something producing fear-filled, poverty-laden, results.
But if you give 100% of your energy to love, aka, people who vibe with your work, you betcha that success, traffic, and money are yours. Recently, I changed my blogging course for famous features to a monthly subscription model. Quickly, one of my readers signed up. Within a few hours, I quickly made an extra $20 in recurring payments for a year or 2 or more, in addition to all other blogging income I earn. I built a bond with that blogger by helping her, so we both became resonant. Money flowed to me through our bond.
She also bought many of my eBooks. I never attempted to convince her of anything. Fans and/or friends pay you to buy your stuff or to hire you, so no need to convince lukewarm folks to buy, because doing so wastes your energy.
Tony Robbins or Ryan Biddulph
One loyal customer, client and reader explicitly told me she could hire anybody to coach her, including Tony Robbins, but she chose me. She is a high net worth individual living in a prospering town. All I did was publish helpful, free content and she bought in literally and figuratively because she vibed with my teaching. I never tried to convince her of anything. She simply spent $200 for one hour of coaching automatically because we vibed.
Give virtually all of your attention and energy to helping folks for free thru many online channels. Be generous and genuine. Folks who vibe with your free content buy your products and services.
Never try to convince or coerce non-resonant folks because doing so wastes your energy.
Keep going back to where you are loved to tap into abundance.
About the Author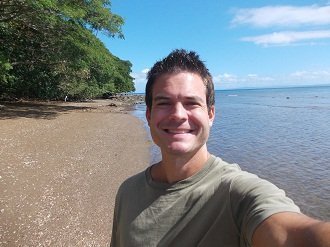 Ryan Biddulph inspires you to live your dreams at Blogging From Paradise.
Thank you, Ryan, for your good vibes on my blog 🙂
What is your opinion? Does Ryan's approach to selling stuff resonate with you?
What is your experience?
Please leave a comment.
See also > Should I Pursue My Passion or Chase Money?
Read also Bloggers This Is A Call To Surrender To Blogging For Fun!