How to become a successful blogger?

This post is not about blogging technics, but about the fundamentals of success.

Often I see in social media and articles people complaining that family, society, financial issues or circumstances, hold them back from the dream of being a successful blogger. Nobody can hold you back, but your mind. Let go of limiting beliefs.

"Don't limit yourself. Many people limit themselves to what they think they can do. You can go as far as your mind lets you". – Mary Kay Ash

Here are some tips which work not only for bloggers, the tips I give here from my experience work for other dreams as well. These are the fundamentals of success.

"Success is neither magical nor mysterious. Success is the natural consequence of consistently applying the fundamentals."– Jim Rohn

First, it is essential to see what your heart tells you. Learn to distinguish between the feeling to want something because a friend or somebody else said you should do or if it is your heart desire.

If it is your heart desire and passion, to imagine having it or being it will make you feel happy and more alive. In our case here, being a successful blogger. Be clear that this is what you really want and follow your passion.
Take full responsibility for your life and commit to taking action.

If your family, friends, and colleagues do not support your dream, you need to get creative in finding excuses to have enough time for your venture. Do not tell anybody; make it your secret. More beautiful would be to have at least one partner in believing and somebody who is already a successful blogger and supports you. It can be even fun to have a secret.
Make it an adventure, not a struggle to go after your dream.

I promise done like this, even if you are doing a job, you do not like or the study which bores you and you are unproductive, you will improve. Now you have something that you burn for and make you feel happier, and also a secret.
Crucial is to change your thinking. We know we become and get what we think most of it.
It is a universal law. Eliminate the feeling of lack and fear. The universe always responds to your feelings and delivers more of the same. If you think not enough, it will give you more of not enough.
Never think about what you not want, always think about what you do want.
Never think about what you do not have or cannot do, learn to reverse this thought to appreciate what you have and look for opportunities to take steps you can do. Be creative and innovative in finding your way to the dream. Make sure to be confident and believe that you deserve the success of your dream.
Some people struggle because they doubt it. Be open to receiving what you deserve. The Universe will support you; it is full of infinite possibilities.
Start taking action and learn the new skills that you need for your blogging carrier. I will not happen overnight and needs consistent hard work.
Go steady and Step By Sep
Go step by step and bath in the beautiful feeling of little successes; this will attract more of it. Imagine yourself already being what you are in your dream. Do not talk even about the small victories to anybody except your partners in believing or like-minded people, which wants your good
Keep it a secret and do not make announcements; it could make jealous, which is not good energy. Stay away from naysayers.
"Never surrender your hopes and dreams to the fateful limitations others have placed on their own lives. The vision of your true destiny does not reside within the blinkered outlook of the naysayers"-Anthon St. Maarten
The first ones who brag with your success, usually are the ones who scared you from going after your dream. After you put them in front of completed facts, they will say: "We knew that he /she would make it," even if they did never believe in you.
Do not get distracted by shiny objects, or things which promise you to become a millionaire fast. It only brings you to a detour and is a waste of time. Have perseverance and keep the right attitude.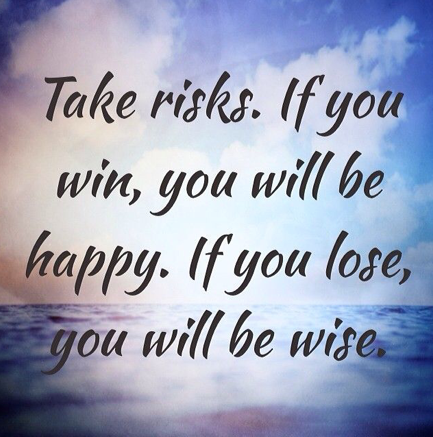 Sometimes, you will need to take a risk. Be not afraid, if you keep your positive attitude, nothing wrong can happen. "Leap, and the net will appear." — Zen Saying

"Take risks: if you win, you will be happy; if you lose, you will be wise." — Anonymous
Many are not getting to success only because they are afraid to take a leap of faith.
Read this post by Donna Merill: Struggling Bloggers Live In Fear
A leap of faith can get you forever out of survival mode, and your dream comes true.

Read about the survival mode here and the experience of Ryan Biddulph, Blogging From Paradise. Do You Feel Beaten Down By Living In Survival Mode?
He leaped and is a successful blogger. He is an impressive example and is passionate to help other bloggers to succeed.
It may be that you will change your dream on the way and find something which you feel is your purpose and passion in life. Why not? It also is a positive outcome.
Here a little story about my son. An example of how dreams can change by finding a real passion.

We just had started life over, coming after the revolution from Iran to Germany. My son went to High school, and his best friend was a Turkish young man. The Turkish people working and living in Germany that time used to drive home every year to visit their family. It was possible until the war in Yugoslavia started, which was on the way to Turkey. Today the people fly.
Friends have dreams
It seems this two had dreamed of traveling together that year and our son came and asked me for help. As we had just started life there, it was not possible for us to finance this journey for him. But I told him that I would be happy to see the two of them being able to travel together and have fun.
So I thought of a solution and told my son to go and get the local newspaper.
In this newspaper were always little job offers. We looked together, and we found a suitable job, which was work in a yard for landscaping. I knew this is something he likes and has experience in it because we had a garden and loved working in nature. Right away he went after it and got the job.
A Dream became true
It was still a few weeks until the travel date, and he made it. He earned good money, and with a little help from us, it was possible to go. The two friends went with the family and had a great time together and lots of adventures. The dream of the two became true.
But not only this, my son did stay with the landscaping work. Even when he finished High school and went to university to study engineering, he always kept doing this job in his free time to have money for more travels.
When he was studying, he had difficult times, like everybody else. Like many other young people having to leave after the revolution, the dream was to study and go back to serve their country. But for many, this did not happen.
Expectations of the society
One time when our son had trouble to study and was down, the talk was, that he thought he has to and that we wanted him to be an engineer. It was an assumption of him and a common expectation of the society of a young man. Do study, get a title, a car, a wife and have a house, vacation, work and save for the retirement. It was holding him back and under pressure.

Thoughts and believes keep many people like paralyzed and trapped.
I said that I never said that I want him to do this and that I want to see him doing what he loves and be happy. Maybe others in the family do expect, but this is not what should keep him away from what he likes to do.
This talk it seemed, took the pressure away and he got more ambitious and finally became an engineer. His Grandma was very proud and imagined him with a suit and tie sitting behind a desk 🙂 But I knew it is not what he loves and felt that this would not last.
He got an excellent job in a company, was send to events, and it was something new and exciting. But after two years he quit. He got back to what he loved and made the landscaping company successful.
And this is what he is still doing even after changing countries again. He loves his work and will be successful.

"Don't aim for success if you want it; just do what you love and believe in, and it will come naturally." – David Frost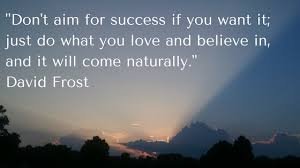 "Do what you love, and the necessary resources will follow."- Peter McWilliams
Go after your dream and follow the tips. You can become a successful blogger, or you may find another passion on the way. In any case, you will gain experience which will improve your life.

Start where you stand, and work with whatever tools you may have at your command, and better tools will be found as you go along.
Napoleon Hill
To your success!